Finally, affordable GM LS1/LS6 tuning in Erie, PA! I'm an Independent Tuner and I use HPTuners exclusively to tune each and every vehicle to its specific needs. I can provide Street tuning in order to maximize your results. I also can provide mail-order tunes for 1999-2005 LS1/LS6 cars at a very reasonable price using my bench harness, as well as basic "charge per item" tunes such as deletion of codes, lowering fan temps, CAGS, gear ratio, injector swap, shift firmness, etc.

Have you just installed a new cam and want to squeeze out every last drop of horsepower? Need EGR Codes removed due to a LS6 Intake upgrade? Just installed long tube headers? I have been perfecting my tuning skills since 2003 and have had many satisfied customers. From slight modifications to all-out full street tunes, I can provide the services you need! Unleash the beast

Tuning provided for:
1998 - 2002 Camaro & Firebird LS1
1998 - 2004 Corvette LS1/LS6
2004 GTO LS1
2003 - 2004 SSR 5.3L
2004 - 2005 Cadillac CTS-V
1999 - 2006 Silverado (5.3L & 6.0L)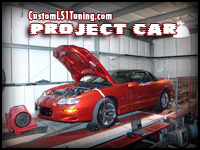 Disclaimer:
All tuning performed on your car is for "Off Road Use Only"! Testing and tuning on & off the dyno will push your vehicle to its mechanical limits. It is the car owner's responsibility to ensure that the car is in good working order and capable of handling the stresses incurred when tuning your car.